Elementary & Middle School
The Elementary school offers grades Kindergarten through grade 5 - offered at the Rosalind campus only.  Middle school grades 6 – 8 (ages 11 – 13) are offered at both campuses. The school accepts students in January/February and August / September.  All other requests for irregular enrollment dates will be considered on an individual basis.
English Instruction and Teachers     
English is the language of instruction and proficiency is emphasized as part of the program.  Our lead classroom teachers are all English native speakers. They are supported by international English-speaking teacher aides.   Additionally, we have a team of teachers providing virtual support our program.   
Low teacher pupil ratios ensure individualized attention to social-emotional development and academic success.  Our motto is Be Extraordinary – we strive to assist each student to achieve this goal. 

An option for those students lacking the appropriate level of English proficiency is our ASA Prep program, grades 4 – 8.
ASA Prep program:

A special English program is offered to future ASA students who need to improve their English proficiency levels for acceptance into our full English ASA program.   

This is a full day school program, for grades 4 to 8 (ages 9 to 13) with ½ of the day in English language instruction and the other ½ in Portuguese with the students learning their core grade subjects in Portuguese.  (Reading, Science, History and Math) Enrollment dates correspond with the school year.  I.e.  January/February and August/September start dates.
Academic achievement, progress, and promotion are affected by the level of English language proficiency.  ASA PREP student's language progress is monitored regularly and when a student is ready for the regular ASA program, (full English) this will be discussed with the parent. 
Kindergarten Admission:
Kindergarten students must be 5 by September 1 unless approved under special circumstances by the school administration.
All Kindergarten students must prove school readiness via the iReady score and a developmental screening - prior to acceptance.   i.e. not all 5-year-old students are ready for Kindergarten.   
Curriculum
The ASA program is based on American developmentally appropriate curriculum standards.  Close attention is taken to assure that our lessons are developmentally and academically appropriate for each child. Teacher student relationships are nurtured and are a fundamental part of the classroom learning environment.  We engage students through learning experiences in whole group, small group and individual instruction using the latest technology and classroom strategies. Learning activities engage student's interest via the use of computer interactive software, hands on learning, art, music, Virtual reality, collaborative wall activities, projects - with student's progress and achievement based on mastery of skills and content.
Technology rich: 
The grade level lessons, complimented by digital and interactive learning resources in our technology rich classrooms – Virtual Reality, Interactive Boards and Collaborative Walls - enable students to meet their full learning potential.  Designed to teach students to explore and think creatively about what they are learning, empowering them to explore their world with in-depth study of the subjects that most interest them - with our digital resources and technology rich classrooms, learning is without limits!
Our teachers support technology implemented throughout the day, enhancing and reinforcing our curriculum objectives in a methodology in which today's 21st century learners know; encouraging and engaging them to perform their best.  The curriculum embeds learning resources including:
 Brain Pop                                Math in Focus             PBS Kids
 National Geographic              Science Fusion             Discovery Education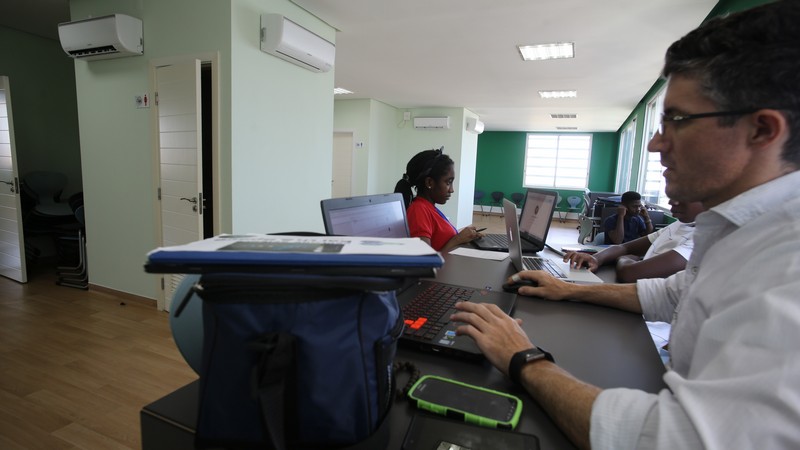 Inside ASA - Elem / MS:
We do "school" differently at the American Schools of Angola. Utilizing student centered strategies combined with - a state of the art accredited online curriculum, hands on project-based learning and experiential environmental learning AND including the use of various technology, (VR, Interactive boards, Collaborative wall,) the students develop the ability to:
Think critically and creatively

Communicate effectively—with their peers as well as with adults

Develop deep content knowledge

Gain confidence in their problem-solving ability

Be at ease presenting their knowledge to others
Preparing students for academic and personal success, our students work diligently to complete their coursework and projects by:
Utilizing the local environment as a learning setting

Working with our US certified teachers committed to helping students develop their curiosity and thinking skills

Willfully learning to learn and think in a developmentally appropriate and academically challenging environment

Eagerly digging deeper into content that is of particular interest to them

Developing independent learning strategies to fulfill their learning goals
Technology-based learning provides the curriculum foundation offering:
Consistent accredited curriculum

Individual pacing – with teacher oversight

Mastery of content and concepts required – insuring a strong foundation for future academic success
Classroom teachers provide:
Development of supportive relationships

Tutoring and Enhancement

Assurance of understanding

Enrichment – music, art, physical education
 Blended learning (computer enhanced curriculum and instruction) is the ASA way of providing a 21st century education to our students, includes paying attention to:
The modality of the student's learning – visual, kinetic, auditory and technology

Individualizing instruction – based on feedback from the teacher's electronic gradebook and dashboards

Providing homogenous small groupings for targeted instruction

Allowing student choices

Requiring student ownership in their own learning and

Development of teacher student relationships
Our blended learning model ensures attention to detail, quality, and maintains accreditation for the school.

Skills for Success:
 In preparation for global citizenship and leadership ASA Elementary - Middle School emphasizes "essential skills for success". The specific skills that are developmentally encouraged and reinforced include:
Being a team player by working cooperatively and displaying leadership skills.
Flexibility by adapting to situations and being dependable.
Effective communication by articulating well with good listening skills and using appropriate body language.
Critical thinking with the ability to notice, seek resolution, and solve daily problems.
Accepting feedback by gracefully accepting critique and compliments, with the ability to apply this feedback for their personal and professional growth.
Creative thinking with the ability to generate unique and effective solutions or alternatives that drive innovation and increase efficiency.
Integrity by doing the right thing even when no one is watching
These skills are developed and practiced mindfully every day at ASA.