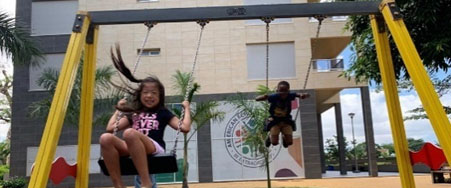 Elementary & Preschool
Preschool
ASA opens for preschool ages 3 and 4 with Kindergarten children in a spacious, explorative playroom. This unique, full-day program allows children to use explorative play and nature to build their understanding of themselves and their environment. A pre-requisite for preschool is being potty trained and able to successfully transition away from family care for at least a half-day program.
Bi-lingual educators actively model Portuguese and English for elementary students. Mother tongue development, after all, is the better way to respect cultural differences and nurture a strong family bond between school and a child?
Kindergarten admission
Kindergarten students must be 5 by September 1, 2020. Students must be school ready with a reading, writing and math assessment given in English and available in Portuguese. Our Child Study Team performs developmental screenings on designated Saturdays prior to the start of each school year and on an individual basis otherwise.
Not all five-year-old children are ready for Kindergarten. Non-qualified students are welcome to join our preschool program.
·         Students learn age-appropriate motor, social, and manipulative skills
·         Phonetic awareness in English
·         Screen time limitations
Elementary years
Classroom teachers enhance learning and assurance of understanding. They guide your child's success, alongside the family. Adaptive software enhances individual achievement at ASA. But teaching is an art form that requires a nurturing and talented professional!
Lower Elementary
Grades 1 and 2 rotate through stations with their experienced expat teacher and local learning coach. Students may enroll at any time August thru May.
·         Language Immersion allows students to develop English skills over time
·         Social skills gained throughout the day
·         The foundation of geography, math and science deepened through curiosity
·         Integrating nature as a learning setting
·         Digging deeper into content that is of particular interest to them
·         Developing independent learning strategies to fulfill their learning goals
Upper Elementary
Grades three thru five gain academic strength and flex their independent thinking skills. Their abstract thoughts expand and our expat teacher alongside a local learning coach tie contextual links to build concrete knowledge from abstractions. New math skills must be groomed at this time.
Language learning comes alive in these developmental years because students understand the significance of clear communication, research skills and self-management. It takes each learner the time it takes for master of these topics but the growth is exponential in Upper Elementary.
Skills our young learners earn:
·         Think critically and creatively
·         Communicate effectively—with their peers as well as with adults
·         Develop deep content knowledge
·         Gain confidence in their problem-solving ability
·         Be at ease presenting their knowledge to others