Technology
Students are much more linked with technology and use it on a constant basis. Technology forms a large part of a teenager's lifestyle.  The ASA program and teachers are aware of this, therefore rely upon technology as a teaching strategy.  Technology is used to enhance the student learning experiences and is incorporated into their day.
Students are encouraged to implement technology into their assignments whenever possible. 
Blended learning (computer enhanced curriculum and instruction) is the ASA way of providing a 21st century education to our students, includes paying attention to:
The modality of the student's learning – visual, kinetic, auditory and technology

Individualizing instruction – based on feedback from the teacher's electronic gradebook and dashboards

Providing homogenous small groupings for targeted instruction

Allowing student choices

Requiring student ownership in their own learning and

Development of teacher student relationships
Our blended learning model ensures attention to detail, quality, and maintains accreditation for the school.
Students are taught typing and voice recognition texting – to reduce the amount of time it takes to write/complete assignments.
Laptops   BYOD 
Students complete their coursework utilizing their laptops.  As a 21st century school we are a bookless school.    (The elementary school does have books.) 
Collaborative Walls 
Students at American Schools of Angola utilize cutting edge technology to propel their learning to extraordinary levels.  Our "Collaborative Span Wall" is shown in use here.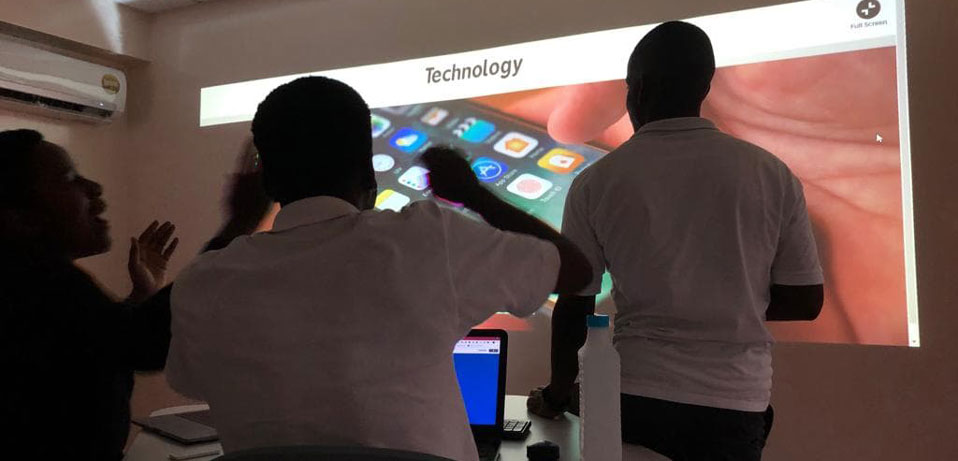 Read our 8 of our favorite ways this technology is benefiting our students
Virtual Reality (VR)
Our approach at ASA is to use blended learning, whereby several learning approaches are combined. This means a mix of computer aided learning such as virtual reality systems with traditional forms of learning, such as discussion, projects and writing assignments. This blended approach is designed to meet the needs of all students, regardless of their learning style.
As a groundbreaking new technology, Virtual reality (VR) is opening doors in education that allows students to take field trips that could only have been imagined before.  Examples include swimming under the sea, roaming the moon, visiting the international space station, watching and operating on the human heart or traveling back in time.  At American Schools of Angola we proactively invest in technology to bring these experiences to our students.  We have watched with awe as we witness their learning find real meaning and enthusiasm from a virtual experience. Our students have learned they are not bound by the borders of Angola or Africa or even the world. Please read the about 10 Benefits of Virtual Reality we have discovered in our classrooms (...and a little about what we hope it will someday become).